There are different kinds of powerups strewn all around the tracks. There are basically two kinds: Inventory Powerups and Immediate Powerups. Inventory powerups are weapons and other items which you can collect and use whenever you like. The Immediate Powerups are ones which activate immediately when you get them and remain active for a specified duration.
---
INVENTORY POWERUPS
To activate an Inventory Powerup press the Throw Forward or Throw Backward key. You can only hold one kind of Inventory Powerup at a time. The current Powerup and the quantity that you have appears at the top of the screen: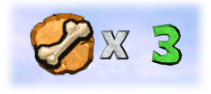 These bones are packed with high explosives. Throw them at your opponents to knock them off course.

BONE BOMB

Drop these in front of your opponent's path. If they run over it they will lose traction and spin out.

OIL SLICK

Activate these when you need an extra speed boost. You will have 5 seconds of super speed.

NITRO

Primitve heat seeking missiles. Launch in the general direction of your opponent and the pigeon will hunt them down.

HOMING PIGEON

Exploding rockets to knock your opponents off course.

BOTTLE ROCKET

Launch into the air and they'll come crashing down on the nearest opponent.

ROMAN CANDLE

Used in Atlantis for underwater attacks.

TORPEDO

When this projectile explodes any players caught in the shockwave will be frozen for several seconds.

FREEZE BOMB

Drop these to slow down the players behind you.

LAND MINE
---
IMMEDIATE POWERUPS
Immediate Powerups are activated the instant you get them, and they only last for a specified amount of time. Their icon and the time remaining appears on the left of the screen:

Gives you super sticky traction. It's almost impossible to skid with this active!

STICKY TIRES

Very useful for cars with poor suspension. This reduces the amount of ricochetting off of bumps and walls.

SUPER SUSPENSION

In multi-player battle modes this will make you invisible. You will not even appear on the other players' overhead map.

INVISIBILITY
©2012 Pangea Software, Inc.
All product names are trademarks of Pangea Software, Inc. unless otherwise noted