THROWING WEAPONS
In the lower-right corner of the screen is a bone icon. You press this to throw weapons or activate the Nitro powerup. Some weapons can be thrown either forward or backwards, so to throw forward you press the top part of the bone icon, and to throw backwards you press the bottom part of the bone icon.
Next to the bone icon will be the Weapon Indicator. The icon tells you which weapon you have and the number next to it tells you how many you have in your inventory. When you have no weapons this indicator will not be shown, and the bone icon will be dimmed.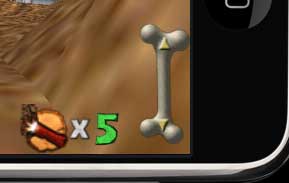 PAUSE THE GAME
To Pause the game simly double-tap the middle of the screen during the race. This will bring up the Paused dialog where you can choose to End, Resume, or view the Settings.