AIR WINGS FAQ
Q: THE PLANES WILL SUDDENLY JERK LEFT OR RIGHT WHILE I'M PLAYING
A: This may happen if the control mode you have selected is set to "Gyro + Compass". Some devices have magnetometers which are extremely sensitive to outside magnetic interference, and when this happens it causes iOS's Core Motion to freak out causing you to crash into a wall. The simple fix for this is to select just the "Gyroscope":

The benefit of Gyro + Compass is that the compass keeps the gyroscope from drifting. If you go with just the Gyroscope you may have to press the Neutral button fairly often since the gyroscope will drift over time or when you make lots of fast moves. We recommend using Gyro + Compass if possible, but if it's jerking your plane around then just use Gyroscope.
Q: WHY CAN'T I FIND ANY PLAYERS TO BATTLE?
A: It normally takes less than 10 seconds to get a 4-way auto-match. If you are unable to get a match then check these:
1. iOS 6 occasionally logs users into the "sandbox" Game Center server. To fix this run the Game Center app, go to your Account, and Sign Out. Reboot the device, and sign back in. You should now be on the public Game Center server, and you'll get quick auto-matches. If this does not work you may also need to delete Air Wings and redownload it after rebooting.
2. Many Public WiFi networks (schools, hotels, malls) block Game Center. Switch to a cellular connection and see if that works.
3. Go to Settings -> General -> Restrictions -> Game Center and be sure that Multiplayer Games is ON.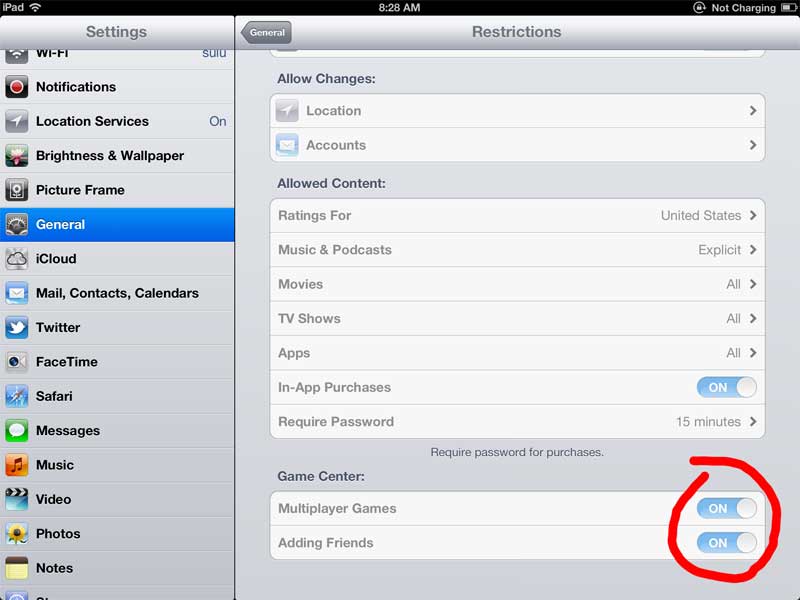 4. If none of the above works then it may be an issue with your network, and the easiest way to test that is to change networks. If your device has cellular, then turn off WiFi and see if you get a match over cellular. Or, you can take the device to a friend's house or work - anywhere with a different WiFi network, and see if it works there. If so, then you'll know it's an issue with your WiFi network - possibly a firewall issue.
Q: WHY DON'T MY FRIEND INVITES WORK?
A: If nothing happens when you invite a friend or when a friend invites you then check all of the things above, and then also be sure that PUSH NOTIFICATIONS ARE ON. Go to Settings->Notifications->Game Center and turn everything on. Also run the Game Center app, go to your Account Settings, and be sure that Game Invites are turned on: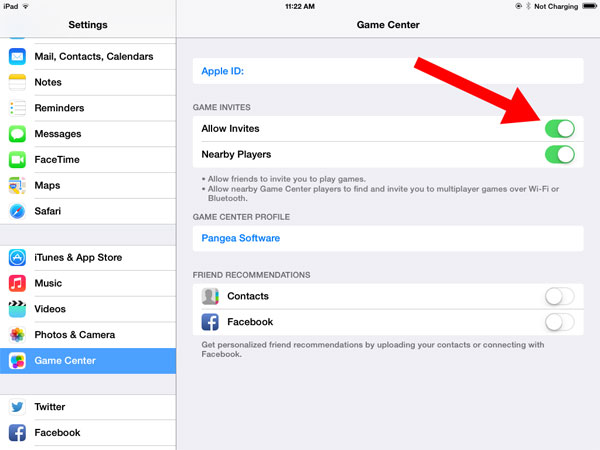 Q: I BOUGHT AN UPGRADE, BUT IT ISN'T SHOWING UP
A: First try pressing the Restore Purchases button in the Upgrades dialog. If this does not fix it then email us (support@pangeasoft.net) and we can help.
Q: "Waiting for Authentication"
A: This means you are not logged into Game Center. You should run the Game Center app on your device and log in there. Game Center is one of the built-in apps that comes on your device, so look for an app called "Game Center" on your main icon page.
Q: WHY DO OTHER PLAYERS SOMETIMES GO THRU WALLS?
A: This can happen if the other player gets disconnected unexpectedly.
Q: WHY DO OTHER PLAYERS JUMP AROUND OR BECOME INVISIBLE?
A: This happens if there is a really bad network connection such as 3G or if the player's WiFi is clogged by other traffic. They're not cheating as most people assume. It's just a bad connection.
Q: HOW DO I GET FRIENDS?
A: Run the Game Center app and press the Friends tab. You can invite them to be your friend there.

Q: HOW DO I USE AIRPLAY MIRRORING?
SUPPORT
©2012 Pangea Software, Inc. All rights reserved. Air Wings is a registered trademark of Pangea Software, Inc.