Important Tips
These tips are critical to playing Enigmo 2, so please read them all:
TIP #1: NEW PARTS AUTOMATICALLY ALIGN TO THE CURRENTLY SELECTED PART
You can easily align parts by selecting a part in the level that you want to build onto and then dragging a new part from the parts palette. The new part that you drag onto the level will be in the same plane as the part that was selected. For example, to put a water tank on top of a stack of cubes, we would do this:
1. Select the cube that we want to put the water tank onto.
2. Drag the water tank from the parts palette to the position where you want it on the cube.
Here is a QuickTime movie of this complete action: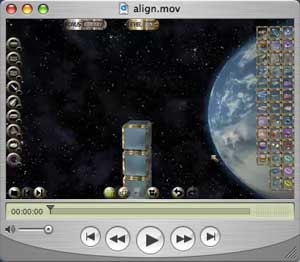 TIP #2: MOVE PARTS FORWARD / BACKWARD BY MOVING THE CAMERA TO THE SIDE
Dragging a part moves the part left/right/up/down. But how about moving the part forward and backward? To do that, you rotate the camera to the side and then drag the part from that viewpoint. For example, let's see how to drag the middle cube away from the front of the scene (toward earth):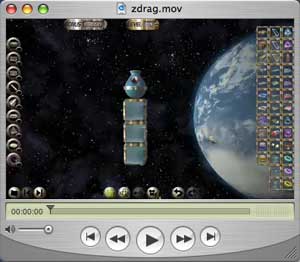 If you've got the selection axes mode set to the dragging arrows (as in the movie above), you'll see the arrows change as the camera rotates around. These arrows indicate the plane on which the part will be dragged when you click and drag on it.
TIP #3: NEW PARTS AUTOMATICALLY MATCH THEIR ORIENTATION TO THE LAST PART SELECTED
When you add a new part to the scene, the rotation of the new part will match that of the most recently selected part. This further aids in quickly building structures since you won't have to manually rotate every part every time you add one to the scene. The following movie demonstrates this: