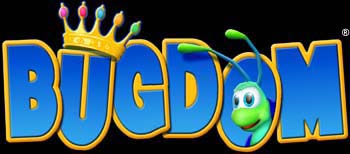 BUGDOM HINT OF THE DAY:

Finding the Blue clovers on each level may take time. On some levels, the clovers are in obvious locations, but on other levels the blue clovers are not just sitting there on the beaten path.

LEVEL 7: QUEEN BEE

Killing the Queen requires that you act quickly. It's a good idea to make sure you have as much Ball power as you can get before entering this level. The only way to hurt the Queen Bee is to slam into her as the ball. Kicking her will do no good. As soon as the level begins you want to start ramming into her and you want to do as much damage as you can as quickly as you can. The longer the level goes one, the more difficult it will be to hurt her. At first, she spits out bee larvae, but once she is at 50 percent health she starts spinning flying Bee's which are very hard to avoid. You'll want to keep collecting shields and ball timer powerups during this level.
©2012 Pangea Software, Inc.
All product names are trademarks of Pangea Software, Inc. unless otherwise noted